Lessons
Struggling with your golf game?  Benefit from some of the best golf lessons Melbourne has to offer!
Our professional coaching staff are available to put you on the right path. Golf lessons are available seven days a week with our Head Teaching Professional; Steve Horstmann and Teaching Professionals David Thomas.
To make a booking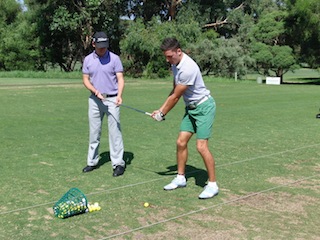 Woodlands Golf Professionals
Steve Horstmann

Head Teaching Professional – Steve is a PGA Advanced Coach and has been the Head Teaching Pro at Woodlands Golf Club since 2010, assisting both members and non-members with the development of their golf game. Steve is a versatile coach, teaching male and female golfers of all ages and abilities, from absolute beginners to full-time tour professionals, with a particular passion for developing junior golfers.

Prior to his role as Head Teaching Pro, Steve played pennant for Woodlands (1997-2000) and completed his PGA Golf Professional traineeship (2001-2003) to become a full PGA member in 2004. Over the following eight years, he played on the PGA Tour Australasia and professional tournaments overseas, and provided golf tuition at Woodlands.

Steve has always strived for continuous improvement in his methods of instructing and golfing knowledge by working with the best Australian golf coaches, leading physiotherapists, sports psychologists, 3D Biomechanic instructors, sports scientists and personal trainers. He has been diligent in ensuring he remains up-to-date on the latest methods of teaching, technology, golf equipment and trends.

Lessons fees and times:

Contact information: 

 

David Thomas

Teaching Professional – David is PGA Advanced Coach and Australian K-Vest Educational Board Member who is a qualified instructor in a variety of modern golf teaching technologies that he has brought to Woodlands to help improve your game. Systems include; Trackman, Flight Scope, K-Vest Bio mechanic training, SAM Putt Lab & Balance Lab . With 18 years full time coaching experience he is energetic and passionate about coaching and is committed to providing training in a professional manner together with up to date knowledge and the most advanced training equipment and aids.

Lessons: ½ Hr $70, 1 Hr $130, playing lessons available on request. Junior's ½ Hr $40, 1 Hr $70 

Coaching Packages:
---
Junior Development Program
Woodlands has a proud history of developing junior golfers. Our junior development programs ensure junior golfers have an opportunity to play golf and develop their skills. Click here for more information about the term and holiday programs.  
---
Women's Play golf clinics – beginner programs
If you always wanted to try golf or are thinking of returning to game, this program is the perfect place to start.
6 week program
Tuesday morning 9:45 to 10:45am and Sunday 
Equipment included
Cover's every aspect of golf. Putting, Chipping, Pitching, Bunkers, Swing and concludes with on course play
Cost $120 for 6 weeks
Next Tuesday program due to start in October 2017 
If you already have an interested group of women we can organise a time to suit you
Women's Beginner to Intermediate program
For those golfer who have done some beginner clinics, maybe playing the odd game on the course or is just getting back into golf after a long break. 
Each Tuesday morning from 11am to 12pm (weather permitting, sessions canceled before 10am) Limited to 6 players. 
Regular practice, training, coaching sessions on each area of the game. Graduating improving your specific technique or swing fault.  
On course play. Play 1 to 3 holes where you learn how and what shot to play in different situations. Also different rules and etiquette. 
Cost $20 per session 
Click Here if you have any questions or you would like some more infomation
---
Steve Horstmann Lesson Fees
Personalised tuition is the most effective way of improving your game, providing a personalized program designed for you by analysing your pattern with the aid of video and computer technology, allocating specific drills and advising the best ways to practice and improve.
Initial lessons should book for 1 hour.
Adult

30 minute lesson
$60
1 hour lesson
$100
5 hour program (save 20%) -Must be used within 3 months from purchase date. Non transferable.
$400

Junior U18

30 minute lesson
$40
1 hour lesson
$70

1 Hour Group Lessons

2 people
$120
3 to 5 people
$130
6 to 8 people
$140

9 Holes Playing Lesson 

$200
 Mid week playing lesson are available anytime during the day

Lesson vouchers

Lesson vouchers can be purchased and collected from the pro-shop on 9580 1157. Alternately vouchers can be emailed and payment can be made over the phone or money can be transferred to Woodlands bank account.  
Steve Horstmann Lesson Times
Monday
10:00am to 3:00pm and from 5:30pm*
Tuesday
12:30pm to 3:00pm and from 5:30pm*
Wednesday
7:00am to 3:00pm and from 5:30pm*
Thursday
12:30pm to 3:00pm and from 5:00pm*
Saturday
7:00am to 1:00pm

Please contact Steve if you require any other teaching times or want to book a playing lesson or orgnise a group clinic 

*After 5pm non daylight saving time lessons will be conducted in the undercover flood-lit teaching facility 
Practice and Training Facilities