Course Tour & Layout
HOLE 1
Men

357m
Par 4
Index 12

Women

305m
Par 4
Index 11
A testing dog leg to start the round. When playing this hole down breeze take an iron or 3-wood to leave a mid to short iron into a receptive green. Bigger hitters can take on the trees, or shape a right to left shot around the corner to create a genuine birdie opportunity.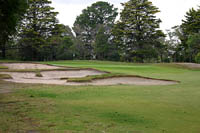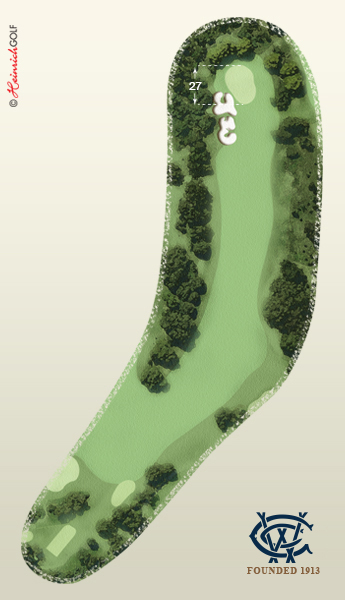 HOLE 2
Men

480m
Par 5
Index 16

Women

400m
Par 5
Index 10
A good drive left of centre to avoid the fairway bunkering and out of bounds fence along the right hand side will give longer hitters an opportunity to go for the green in two. A player of average length can play an iron or 3-wood for the second shot to leave a short iron into a small narrow green.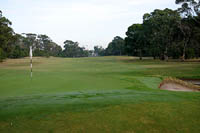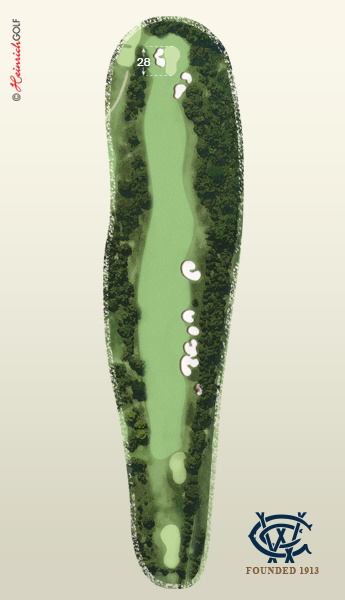 HOLE 3
Men

300m
Par 4
Index 14

Women

270m
Par 4
Index 6
Players of average length need to avoid a cluster of fairway bunkers on the right to leave a short iron to a small and well-bunkered green. Longer hitters can take on the corner to leave a short pitch and another birdie opportunity. Any shots that run through this green can leave a very difficult chip to a back to front sloping green.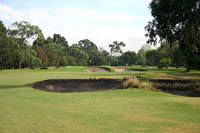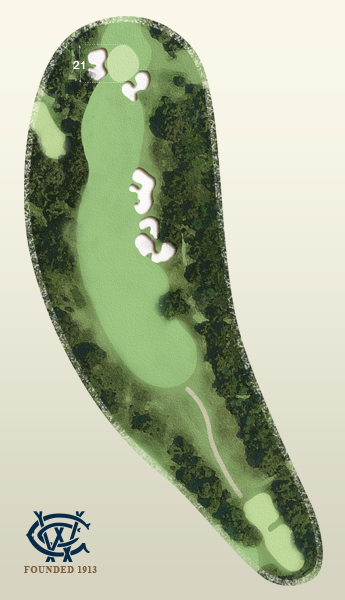 HOLE 4
Men

251m
Par 4
Index 18

Women

241m
Par 4
Index 14
Position from the tee is paramount to allow any chance of attacking this narrow green. The green is reachable, but any shots left or right of pin high leaves a near impossible up and down. Ideal position from the tee is short right to leave a short pitch into a green protected by steep banking on either side.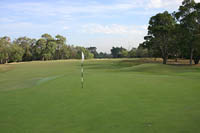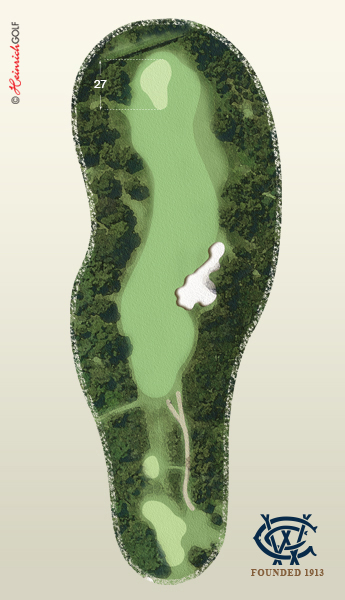 HOLE 5
Men

168m
Par 3
Index 10

Women

131m
Par 3
Index 13
The strategic bunkering common to Melbourne's sandbelt is a feature of this hole. The difficult and narrow green is well protected which requires accuracy and astute club selection.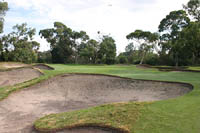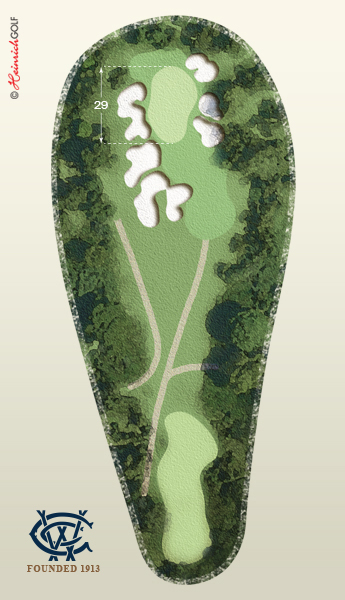 HOLE 6
Men

511m
Par 5
Index 8

Women

422m
Par 5
Index 2
A well placed tee shot is just the beginning of successfully negotiating this strategically designed par 5. The left to right sloping fairway requires a drive down the left side to avoid running down toward the waiting bushland. The second shot can be placed down the left side to avoid the hummocks and thick rough, or longer hitters can attempt to carry the trouble and leave a short pitch into a left to right sloping green. Better to miss this green on the right to avoid difficult green side bunkering on the left.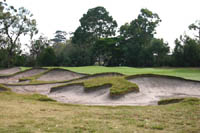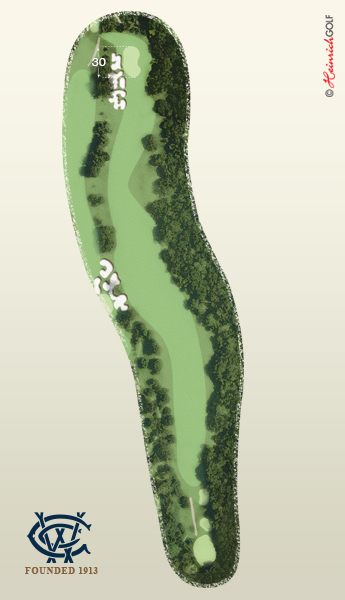 HOLE 7
Men

341m
Par 4
Index 6

Women

289m
Par 4
Index 4
An interesting but difficult medium length par 4. Players can attempt to shape a right to left shot from the tee around the corner, or play for the fairway with an iron or 3 wood. The reward for taking on the dogleg is a short iron into a very small target well protected by greenside bunkering in front and behind. Par is an excellent result here.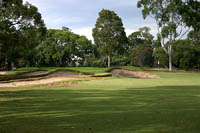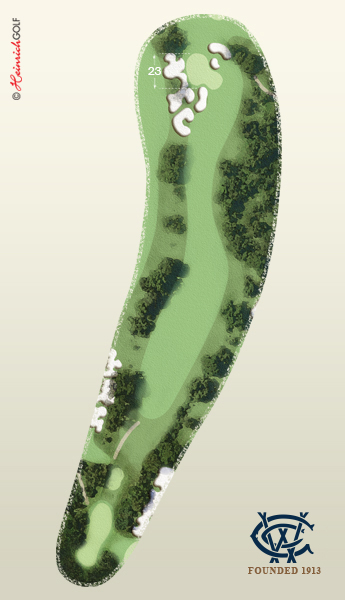 HOLE 8
Men

197m
Par 3
Index 4

Women

160m
Par 3
Index 15
A long but eminently fair par 3 which presents a classic combination of bunkering and undulation to a generous green. A miss short right can leave a manageable chip, anything left will surely find one of the large yawning bunkers that await.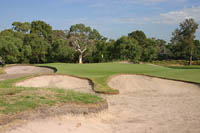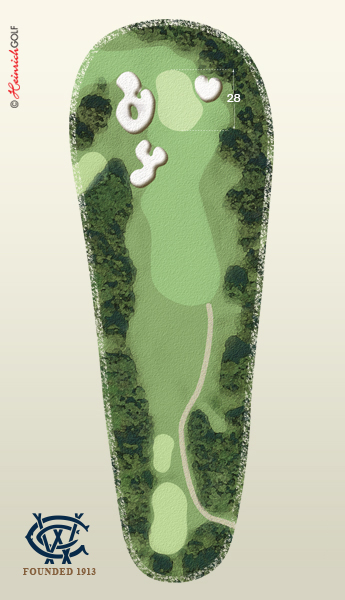 HOLE 9
Men

409m
Par 4
Index 2

Women

389m
Par 5
Index 16
A slightly dog legged par 4 generally played into a westerly headwind. The tee shot must be down the left hand side to open the green for anything from a fairway wood to medium length iron. The large bunkers 20 metres short catch anything short, and anything right of the green runs away leaving a difficult up and down. Par is a good result here.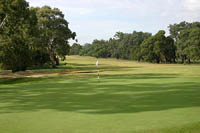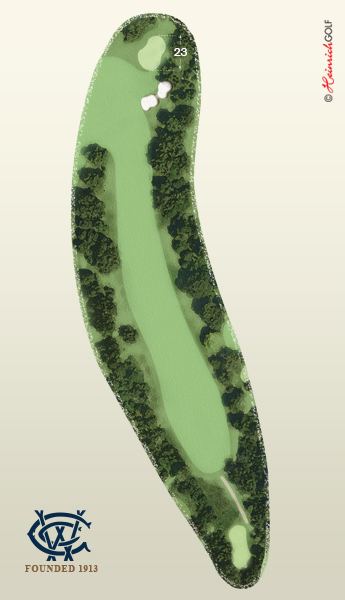 HOLE 10
Men

400m
Par 4
Index 1

Women

370m
Par 5
Index 12
This tough par 4 presents a challenging start to the back nine. A good straight drive can reach the top of the crest some 200 metres away. The approach must be accurate as there is thick woodland on both sides of the fairway, and heavy bunkering protecting this small green which slopes away from left to right. Cross bunkers 40 metres in front of this green catch anything short. The stretch of holes through the 7th, 8th, 9th and 10th at Woodlands presents an excellent test of golf.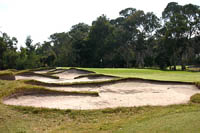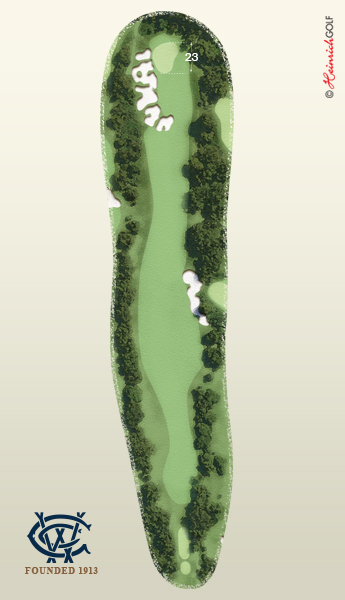 HOLE 11
Men

139m
Par 3
Index 13

Women

117m
Par 3
Index 18
The shortest of all par 3's at Woodlands. This small green is bordered on three sides by large bunkers and thick wiry rough at the back. A good opportunity to catch your breath after the previous stretch of demanding holes.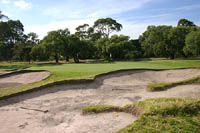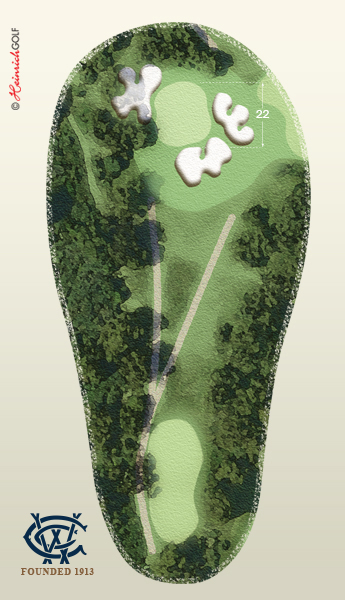 HOLE 12
Men

349m
Par 4
Index 9

Women

333m
Par 4
Index 1
A shortish par 4 of classic design, which rewards an accurate tee shot. The narrow fairway slopes away on the right hand side catching any loose drives so anything down the left of centre is premium here. Anything too long and left can be caught by the fairway bunkering, so a 3 wood from the tee is a sensible option depending on the wind. The narrow green is well protected by deep bunkers either side, and a steep slope behind catches anything through the green.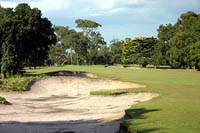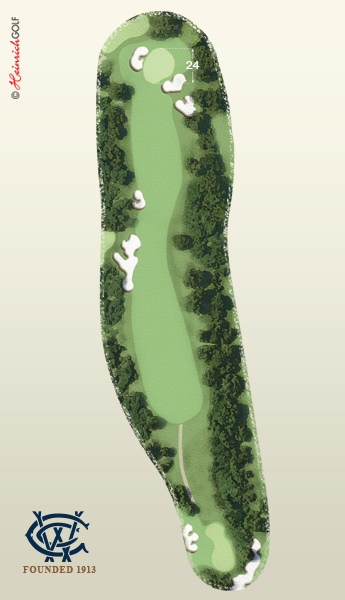 HOLE 13
Men

295m
Par 4
Index 15

Women

280m
Par 4
Index 9
This green is reachable for longer hitters, but the near impossible task of clearing the deep greenside bunkers and holding the narrow green reduces the benefit of taking this approach. A more stategic play is to position your ball short left of the green to provide an ideal angle into this narrow target. A definite birdie opportunity here if you play smart.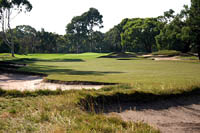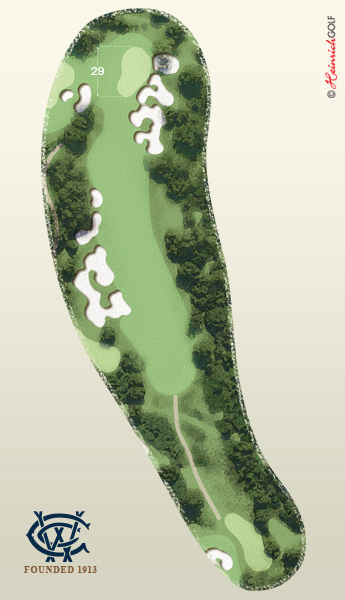 HOLE 14
Men

379m
Par 4
Index 5

Women

333m
Par 4
Index 3
A straight tee shot is needed down a very narrow fairway, bordered on either side by heavy scrub and trees. The approach must then thread its way past extensive and deep bunkering on either side of the entrance to a green considered generous in size by Woodlands' standards.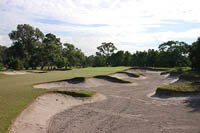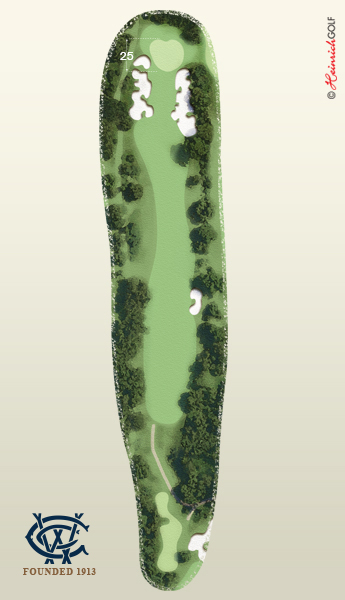 HOLE 15
Men

511m
Par 5
Index 7

Women

410m
Par 5
Index 8
A monster from the back tees, a par is a great result even from the members tees on a par 5 fraught with danger from tee to green. A fearsome set of cross bunkers stretch across the fairway some 100 metres from the green, after negotiating these an elevated green protected by a deep greenside bunker on the left and steep slope on the right and behind awaits.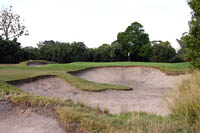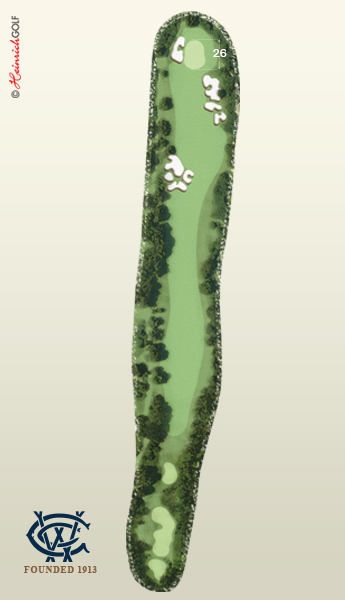 HOLE 16
Men

403m
Par 4
Index 3

Women

327m
Par 4
Index 5
A difficult par 4 generally played into a prevailing wind. The ideal position for the tee shot is right of centre to create a better angle for approaching this green protected by a cluster of bunkers along the left hand side.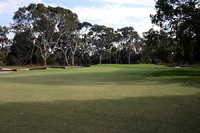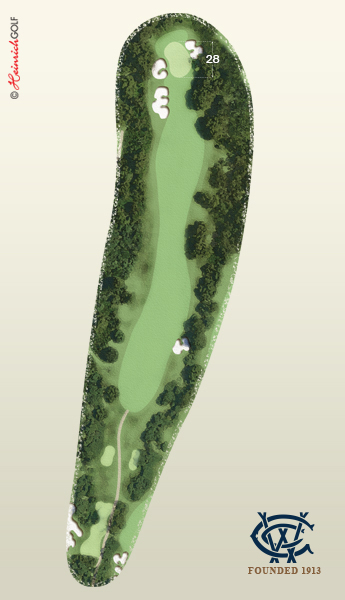 HOLE 17
Men

154m
Par 3
Index 11

Women

116m
Par 3
Index 17
A receptive green but well protected on the right and in the front by a set of deep bunkers. Anything left finds a steep slope that runs into a deep gully or thick rough beyond this. Players who fail to find this green from the tee can struggle to make par.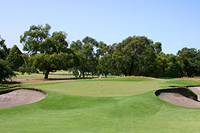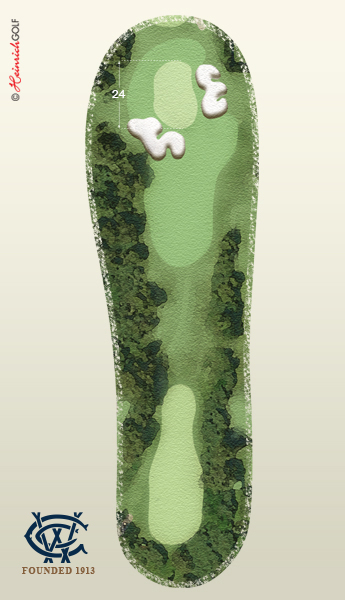 HOLE 18
Men

467m
Par 5
Index 17

Women

440m
Par 5
Index 7
A realistic birdie opportunity to close out the round. A good drive can clear the crest of the hill and run down the slope, beware of the out of bounds fence along the right hand side. Cross bunkers 100 metres from the green can be carried by longer hitters, otherwise leave yourself a short iron to a receptive green protected by relatively shallow bunkers on the left side.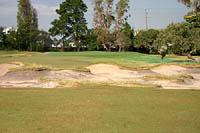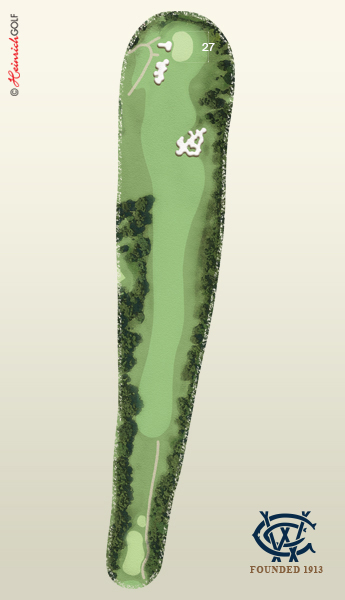 ---
Course Layout
Men

Women

6111m
PAR 72
ACR 72

5358m
PAR 74
ALCR 74
Click on the hole number below to view a description: